KUOPIO Spa Hotel Rauhalahti
Spa Hotel Rauhalahti
Wide range of accommodation options
The pleasant and comfortable rooms of the Spa Hotel are perfect for those who appreciate a carefree stay. The Apartment Hotel is ideal for families and small groups; you can choose either a smaller apartment or a spacious Superior apartment, and all rooms are non-smoking. New Studiohotel is a good choice for those who are seeking for peaceful accommodation around the forest.
Room rates and holidays in Rauhalahti
Conferences and special events
Rauhalahti provides a perfect venue for various events from conferences to festive parties. The conference rooms range from a 200-seat auditorium to smaller meeting rooms, all complete with modern technical equipment and Internet access. There is a programme of organised activities for for groups, such as add-ons to enhance a conference or a corporate activity day, can be arranged on request. Activities spiced up with distinctive local humour, such as local-style curling or the "Savo Olympics", are great for team-building. Jätkänkämppä, an authentic lumberjack lodge from the 1950s, provides a venue for memorable events. Close by, there is "the world's biggest" smoke sauna. Traditional public Finnish Evenings with the opportunity to bathe in the smoke sauna are organised at Jätkänkämppä on Tuesdays throughout the year. The hotel's restaurant complex provides further facilities for conferences, cocktail parties and dining.
Meetings and conferences in Rauhalahti
Lumberjacks' Lodge Jätkänkämppä
Spa and treatments
Pamper yourself with our spa treatments and splash about in our ten different pools or on our waterslide.
The spa is open daily from 9.00 to 20.00. The wide choice of treatments includes luxury pampering experiences, such as massages and beauty therapies and the services of the hairdresser. The treatments are available Monday - Saturday from 10.00 to 20.00.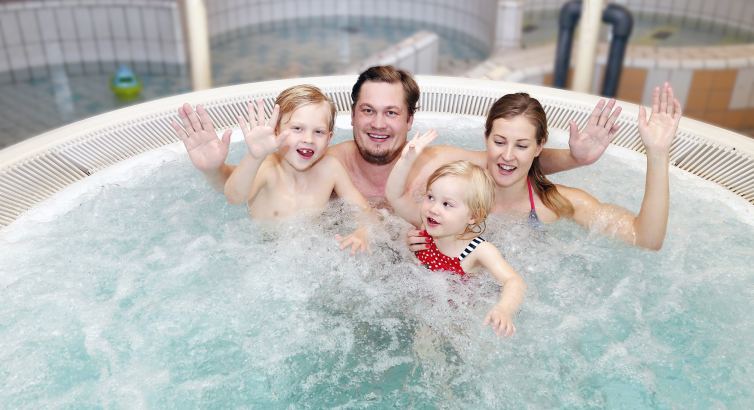 Dining and evening entertainment
Whether you dine at a buffet or from the à la carte menu, you'll find tasty dishes to suit every palate. When the evening sets in, it's time to enjoy karaoke. If the situation is safe, there will be live music on Wednesdays, Fridays and Saturdays. Karaoke nights take place from Monday to Saturday. More info about the dining and restaurants you will find here.
Special Finnish traditional restaurant Jätkänkämppä and smoke sauna
Sample genuine lumberjack traditions and enjoy bathing in a smoke sauna at the Jätkänkämppä Lumberjack Lodge. Jätkänkämppä is open all around the year. Public traditional Lumberjack Evenings open to all take place at Jätkänkämppä on Tuesdays and in June-August also Thursdays. Friday evenings there are sauna evenings 2.7.-13.8.2021.
Read more hete: traditional smoke sauna evenings at Jätkänkämppä
Wide range of activities
Rauhalahti Resort is an all-round holiday oasis that offers a wide range of activities throughout the year.There is a daily programme of organised activities for Spa Hotel's own residents on weekdays. There is a gym, fitness hall, guided exercise classes and equipment rental like skiis, sleds, bikes and snowshoes in the Spa Hotel. Behind the hotel there is a nature path and skiing tracks. You can also find a riding stable, minigolf and frisbeegolf courses, a tennis/squash/padel hall and a bowling centre in Rauhalahti Resort.  In summer times there is also boat, canoe, SUP board and bike rental, nice beach, domestic animal park, summer theatre. The IKEA store and the Matkus shopping centre offer, together with the market place and the various designer stores of the city centre, an enjoyable shopping experience.
NEW! In summer 2021 (July-August) it is possbile to jump in HOP-ON HOP-OFF bus or boat and visit interesting places in Kuopio, read more https://www.kuopiotahko.fi/en/seasons/summer/