NAANTALI Naantali Spa
Naantali Spa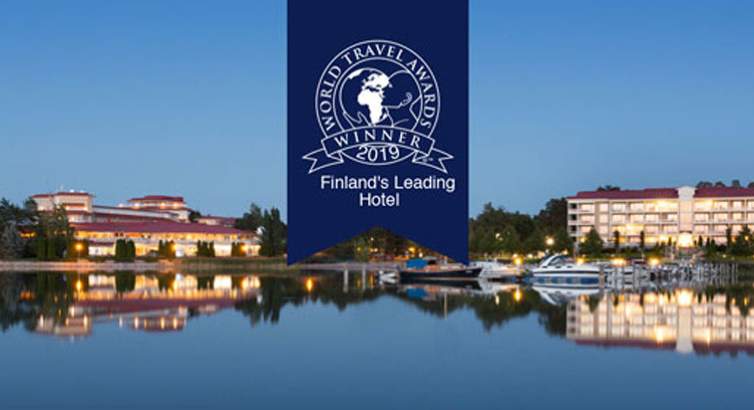 Welcome to Finland's Leading Hotel
The luxurious sauna and pool area and a selection of over hundred spa and beauty treatments ensure a relaxing stay. When it's time for some exercise, there is a fully equipped gym and weekly group activities from water gymnastics to yoga and dance classes available.
For foodies the spa offers several quality restaurants and a café, the delicious bakery products coming freshly from the spa's own bakery. The culinary options range from rich buffet meals to five course a la carte dinners and wine tastings.
To top off the perfect spa experience, Naantali Spa offers live entertainment from piano music to theater shows and traditional dances. Families are also more than welcome at the spa - the children's own play world with e.g. bouncy castles, games, pedal cars and a floorball rink will keep the little ones busy! 
Accommodation 
Naantali Spa offers spacious rooms for every need. Whether travelling alone, with the family, a loved one or a group of friends, or even with your pet, you will find a suitable room or apartment from the main building or from the adjacent Naantali Spa Residence. Both are right next to the sea and close to all hotel and spa services.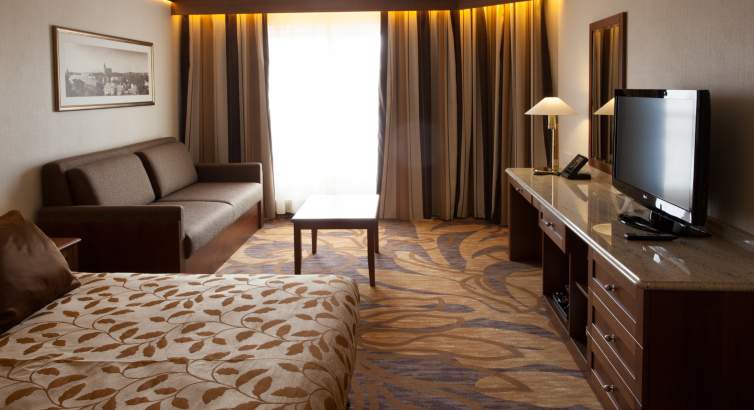 Spa and treatments 
At the heart of Naantali Spa is the sauna and pool paradise. The spa has several pools, each offering a different bathing experience. Immerse yourself in a gently bubbling Roman bath under a turquoise cupola, or let the massaging jets of the recreational pool relax your muscles. Our outdoor pool is heated to 30°C all year round – and is open till late – so you can swim in comfort, even in winter. Saunas are a Finnish tradition, which is why we've included four Finnish saunas – and a steamy, aromatic Turkish sauna!
Naantali Spa offers an extensive selection of spa and beauty treatments in sumptuous surroundings.  A range of different massages is available designed to relax body and mind as well as to revitalize and refresh the whole body. Natural clay and peat products have been used in health and beauty therapies for hundreds of years - at Naantali Spa, we've refined both products and processes in our new Clay and Peat Treatment suite, where guests can enjoy a cleansing and uplifting menu of treatments designed to cleanse, exfoliate, stimulate and moisturize. 
In our Aqua Therapies suite we've combined the latest spa innovations with classic bathing therapies to create wonderfully indulgent baths - sink into Queen Cleopatra's famous milk-and-honey bath, or relax mind and body in our rose bath. We also offer baths for two. 
Bellezza is Naantali Spa's full-service spa salon, offering dozens of indulgent facial and body treatments and massages. We use only high-quality products, and our expert cosmetologists can recommend treatments for both men and women to smooth, soften, balance and calm skin, or to combat the effects of ageing. At the Bellezza shop you can purchase professional skincare products from quality labels such as Phytomer, Matis and Galvagni Spa.
In addition to the many facial and body treatments on offer, Naantali Spa provides a full range of services in a well-equipped Hair Salon. Our skilled hair stylists are on hand to ensure you don't have to endure a bad hair day.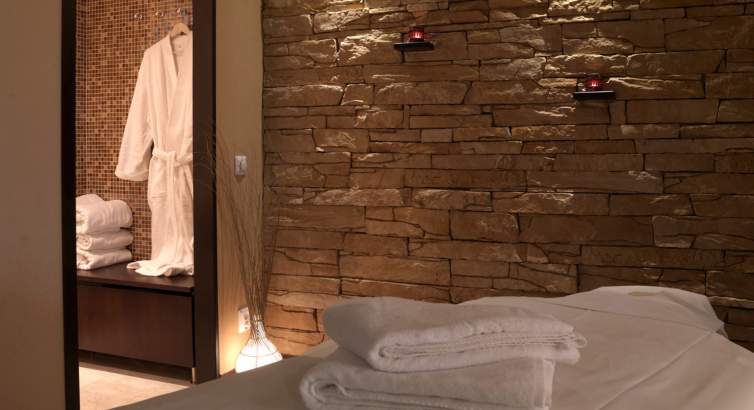 Restaurants
The Spa offers several high quality restaurants for different tastes and occasions.  Le Soleil is known for it's sumptuous brunch tables and dinner buffets as well as contemporary Scandinavian and continental style a la carte menus.
Thai Garden's renowned chef, Manit Poonhiram, and his all-Thai team delight guests with a varied menu of authentic Asian delicacies that we believe to be the best available anywhere in Finland today. Dishes include fragrant Thai soups and expertly spiced curries made from specially imported ingredients and accompanied by Thai drinks.
TK's cellar brasserie offers generous portions and a cosy atmosphere. The relaxed menu includes pizza, salads and pasta and is complemented by an exceptionally wide beer selection. 
And let's not forget Café Roma with light lunches and delicacies from our own bakery, the Lobby Bar with live piano music and stylish drinks  or the Wine Cellar, a treasure trove of wines from around the world, also the venue for themed wine tastings, hosted by our sommelier. 
The summer restaurants Naantalin Kaivohuone and Rantaravintola in the old town of Naantali, by the sea, welcome you to enjoy relaxed dinners, entertainment and drinks on the sunny terrace.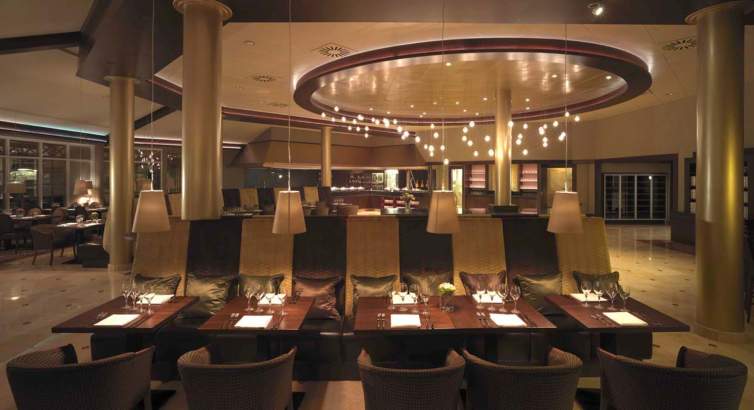 Meetings and events
Six-time winner of Mercuri International's prestigious Conference Hotel of the Year award, Naantali Spa Hotel is the smart choice for businesses looking to stage company events, sales meetings and training seminars. 
Not only are the hotel's conference facilities second-to-none, but hosts can also co-ordinate an extensive range of accommodation, activities, dining and entertainment options to create a completely bespoke package, tailored to precisely meet the clients' requirements – and all in a single spectacular location!
Naantali Spa's party planners will come up with lots of ideas for celebrations. How about a three-course gourmet dinner served at tables with wines chosen by our sommelier? Or maybe an informal buffet table with a delicious selection of hot and cold dishes. 
Venue options range from intimate Katariinasali Hall to the large-scale Grand Ballroom. The spa has a total of 15 conference rooms and two banqueting halls, suitable for 10-200 guests.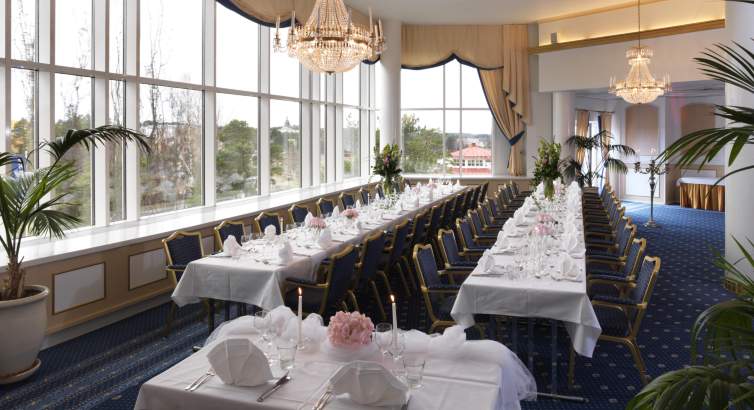 Acitivities
Naantali's reputation as a tourist destination dates back to the Middle Ages, when it was an important monastery town. Naantali's first spa was opened in the town in 1863 . Since then, the region has become well known as a spa destination, with our very own Naantali Spa, one of the first modern spas in Finland.
Naantali is a holidaymaker's paradise. The seafront location, picturesque landscapes, rich history and outdoor activities attract thousands of visitors each year. The narrow cobblestone alleys, chic boutiques and idyllic cafes of the old town are just waiting to be explored. 
For families with children or more adventurous holidaymakers, Naantali offers activities ranging from water sports and boating to sunbathing on the sandy beaches. There are four golf courses in the vicinity of the spa. Nature lovers will find good opportunities to explore the beautiful woods, hills and beaches all around – on foot, bike or horseback. The popular Väski Adventure Island and Moominworld offer the whole family a day full of fun.
At the Spa you can enjoy live music, dancing and our popular 'Show & Dinner' nights. Paviljonki event restaurant features famous Finnish singers, and you can waltz, rock out or samba on the famous dance floor. For sports enthusiasts we have a Fitness Center with a full range of gym equipment as well as weekly group activity classes. The weekly program has information about the spa's exercise activities, entertainment, dancing, excursions, opening hours etc.: http://www.naantalispa.fi/en/offer/weekly-programme-at-the-spa/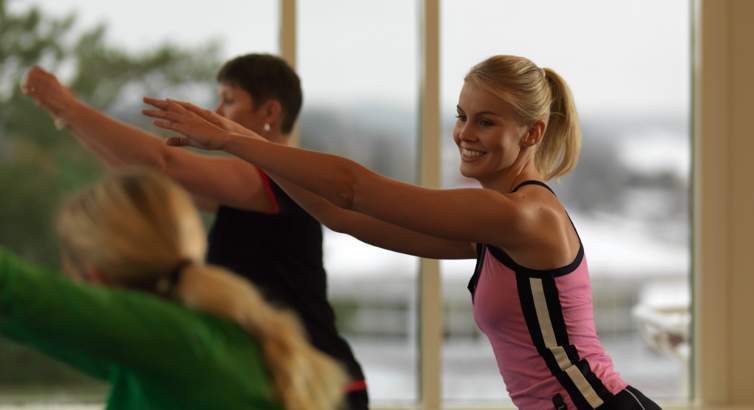 Family holidays
Naantali Spa makes a superb location for a family holiday. The hotel provides a wide assortment of activities for children, especially in the summer months. Get ready for days filled with fun and games in the water, outdoor activities, delicious food, and quality time with the family. 
The Spa has it's own Children's Play Hall open every day with bouncy castles, pedal cards, games and even a floorball rink. There is also a separate play room with toys, books, games, etc., and a little play cottage next to the outdoor pool. 
At nearby Moominworld, you can meet the lovable characters created by the world-famous author and illustrator Tove Jansson. On the adventure island of Väski, you can test your skills at archery, rock climbing or wire sliding, among other exciting activities. If you just wish to enjoy some down time with the family, Naantali also offers safe beaches where children can splash around and have fun in the water.